Mitsubishi Electric Vietnam joins the 50th Anniversary of the Establishment of Diplomatic Relations between Japan and Vietnam
In response to the celebration of The 50th Anniversary of the Establishment of Diplomatic Relations between Japan and Vietnam, Mitsubishi Electric Vietnam joins hands with the community - Towards the future, Reaching out to the world!

ABOUT MITSUBISHI ELECTRIC CORPORATION & MITSUBISHI ELECTRIC VIET NAM
The Mitsubishi Electric Corporation (headquartered in Tokyo, Japan) is one of the world's leading companies in the manufacturing and business of electronic equipment used in Energy and Power Systems, Industrial Automation Systems, Information and Communication Systems, Electronics Devices, and Home Appliances. With over 100 years of experience, the group aims to become a global leader in sustainable technologies, enhancing social well-being through innovation.
Since its establishment in 2011, Mitsubishi Electric Vietnam (MEVN) has continuously affirmed its position in Vietnam. With a mission to enhance people's lives and create a sustainable society through business activities and contributions to the community, Mitsubishi Electric Vietnam has been and is contributing to the establishment of a strong diplomatic relationship between Vietnam and Japan. It has become a reliable partner, actively contributing to the strengthening of the bond between the two countries.
ABOUT THE 50TH ANNIVERSARY OF THE ESTABLISHMENT OF DIPLOMATIC RELATIONS BETWEEN JAPAN AND VIETNAM
On September 21, 1973, Japan and Vietnam initiated the establishment of diplomatic relations. From this point onwards, the cooperation and friendship between the two countries have continuously evolved across various fields, including politics, economy, culture, and sports, spanning from national leadership levels to grassroots interactions.
In 2023, both nations commemorate the 50th anniversary of their friendly diplomatic relations. This is seen as an "unlimited potential" and marks a remarkable period of development for both countries.
MEVN IN THE CEREMONY
Accompanying the event, two programs as part of the Sustainable Initiatives CSR activities by Mitsubishi Electric Vietnam are honored to be recognized as part of The 50th Anniversary of the Establishment of Diplomatic Relations between Japan and Vietnam's activities. This aims to strengthen the friendship between the two countries in general and promote sustainable development in particular.
The first program is the Mitsubishi Electric the Contest of Automation (MECA) 2023.
The Mitsubishi Electric the Contest of Automation is an exciting playground for automation engineers, aimed to nurture and develop young engineers' skills - the "Green" seeds that will contribute to a sustainable society in the future. The competition began in China in 2007 and has since expanded to other countries such as India, Thailand, Brazil, and more.
In Vietnam, MECA was first organized in 2020 for only 1 university. In 2023, MECA expanded on a nationwide scale, attracting 18 teams from 12 top universities specializing in Automation - Industrial disciplines across Vietnam. These include universities such as Hanoi University of Science and Technology, Hanoi University of Industry, Ho Chi Minh City University of Technology and Education, Ton Duc Thang University, Can Tho University, Ho Chi Minh City University of Technology, and many other university campuses.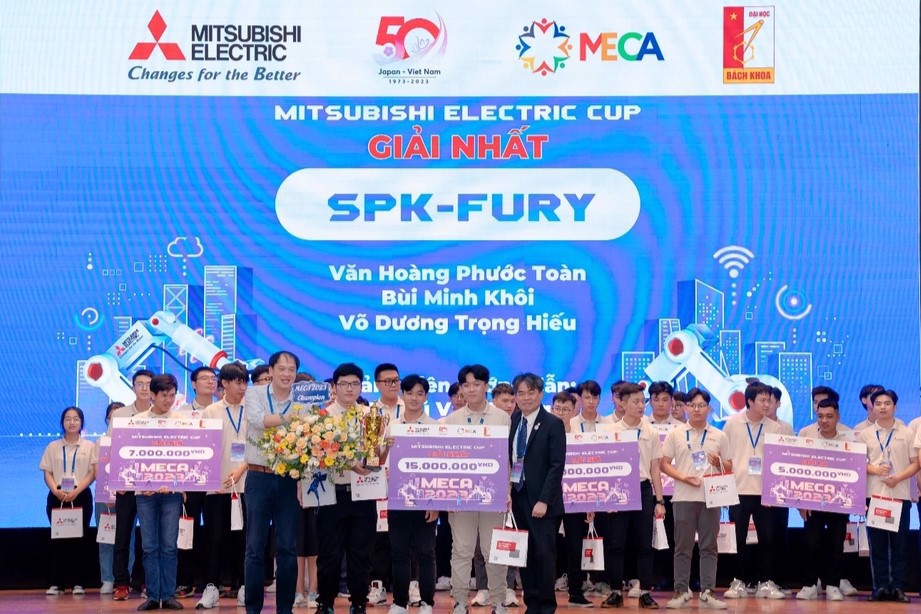 The team SPK-FURY from Ho Chi Minh City University of Technology and Education won the first prize in the MECA 2023 competition.
The competition is not only an intellectual playground but also creates opportunities for exchange, learning, and development in a healthy competitive environment. This is a significant step towards fostering a generation of young individuals full of energy and knowledge, contributing to the sustainable development of Vietnam's industry and economy.
The second program is Teach for Viet Nam 2023
Teaching for Vietnam is a program within the series of activities aimed at building an equal education system for all students in remote and disadvantaged areas of Vietnam, providing them with the opportunity to access modern technologies through English education, STEM (Science, Technology, Engineering, and Mathematics) and Career orientation education.
With the belief that all children deserve an equal opportunity to learn and develop, from 2021, MEVN has successfully established 3 STEM Labs and 3 STEM Gardens in Tay Ninh, Dong Thap, and Quang Nam.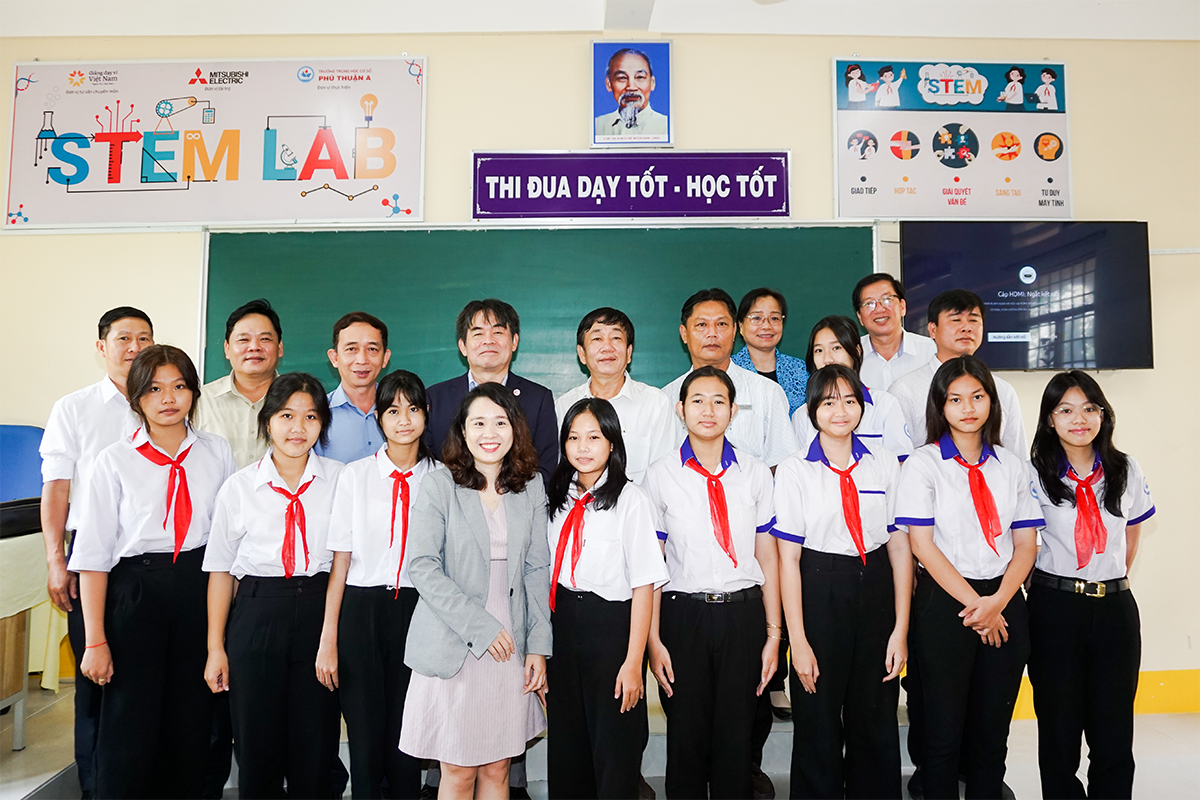 The representative of Mitsubishi Electric Vietnam took the photo with the school and students of Phu Thuan A
In 2023, Mitsubishi Electric Vietnam continues to sponsor the construction of one STEM Lab room at Que Thuan secondary school in Que Son district, Quang Nam province. As well as providing the teaching expenses to promote the dissemination of STEM teaching methods in three secondary schools in Que Son, which include Que Thuan secondary school, Que An secondary school, and Que Phong secondary school.
The project holds the promise of creating a positive and engaging learning environment for students, thus aiding in their development of essential skills in the modern world through innovative learning approaches. Furthermore, students will have the freedom to explore their passions, cultivate creative thinking, and enhance their learning motivation, which opens the way for a brighter future and contributes to the sustainable development of both the community and the nation.
CONCLUSION
Mitsubishi Electric Vietnam has been and continues to fulfill its commitment to social responsibility by providing high-quality products and meaningful activities such as the MECA competition and the Teaching for Vietnam program. Not only delivering cutting-edge technological products, it also contributes to building a sustainable development society.
Mitsubishi Electric Vietnam will strive in its efforts to contribute to fostering a positive diplomatic relationship between Vietnam and Japan, aiming for a brighter future for the country and the younger generations./.